Vection Treatment for Arsene as he is Forth in 2 Horse Race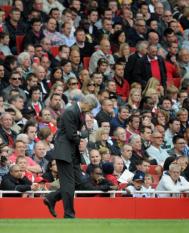 Vection in action
By Boris Mellor
May 22 2011
Yes I know fourth is spelt wrong, it's an attempt to pun Black Adder, doesn't work as well as Slack Bladder which is what I call the bloke in my row at the Emirates who goes to the toilet every twenty minutes. Besides it was meant to read "Sad Slackers Go Forth", but the web software doesn't allow enough space for it. Well survival Sunday was pretty exciting, and what was the significance of it? Answer we lost in the Carling Cup Final to a Championship team.
How can Arsene believe he has moved forward this season?
Surely the fact that team has 7 less points than last season, conceded two more goals, and scored eleven less means his team has gone backward? His team has dropped one place to 4th, and his much vaunted new improved defence is equal to Fulham's at 43 conceded a piece. If Wenger has overachieved on his budget how much has Fulham exceeded expectations on theirs?
How is it that Wenger can have the delusion of claiming this is his strongest squad ever? I think it's important we understand more and condemn less, there is no point in abusing him for something that is not his fault. It is clear that Wenger is suffering from a severe bout of Vection syndrome. Indeed Vection syndrome is not that rare we have all suffered it at some time or other.
Arsene suffering Vection syndrome?
What is Vection syndrome you ask?
Answer: When a large part of the visual field moves, a viewer feels they have moved and that the world is stationary.[1] For example, when one is in a train at a station, and another neighbouring train moves, one can have the illusion that one's own train has moved in the opposite direction (Wikipedia).
Of course someone observing from the platform can quite clearly see that the train has not moved at all, but try to convince the person sitting in the stationary train of that. This explains why Wenger refuses to accept any criticism.
Wenger, sitting inside the train (i.e. managing the team) is convinced there is forward motion. Meanwhile the fans on the platform (i.e. watching from the stadium) can see there is no movement. Now a benevolent and wise employer would realise what is happening and send their employee to a Vection Therapist.
So to help the process I would argue that booing is not going to help to improve anything; instead we should chant,"Going Forward You're Having a Laugh – Vection Therapy Now".
Oh I forgot there was a match, it ended Fulham 2 Arsenal 2.

Always look on bright side
But let's not depress ourselves about the present; our season was over months ago. Instead why not take comfort in the past, and there is nothing like a trip to Craven Cottage to feel back in the past. There's also a chance to sing sit down you pedophile at whacko Jacko's statue.
Meanwhile a team of Arsenal Legends managed by the legendary captain of the 71 double team will play Spurs for a tilt at the London Legends cup. You might even realise that there was a club before Wenger's arrival. This wonderful experience could be yours for free:
Two pairs of tickets to be won to see Arsenal Legends
Arsenal Times has two pairs of tickets to be won for the "The London Legends Cup at Craven Cottage on Sunday May 29th"
Yes Arsenal Times is giving away two pairs of tickets for this 40 minutes a tie tournament. A chance to see veteran Arsenal star Kenny Samson. Zola will be turning out for Chelsea, and there will be a chance to boo Stan Collymore playing for Fulham.
So to be one of the two lucky winners you just have to answer this easy question. Which Arsenal Legend will be managing the Arsenal Legends side on the 29th.
Do not put your answer on this forum you will be disqualified please email to Arsenaltimes@blueyonder.co.uk
Entries close at 5pm Monday 23rd May. Winners will need to collect tickets before the game at Craven Cottage.
If you are not a lucky winner tickets are on sale from £10 each at the website or phone number below:
*Tickets for Football 40 London Legends Cup at Craven Cottage on Sunday May 29th are obtainable from the Craven Cottage ticket office or
The London Legends Cup in aid of Help a Capital Child on 29th May at Craven Cottage. 11 a-side Legends Tournament featuring three 40 minute matches, Live on ITV
CHELSEA v FULHAM, ARSENAL V SPURS & THE FINAL
For tickets www.fulhamfc.com/tickets, www.football40.com or call 0843 208 1234.

Hospitality enquiries 0845 888 8884

Follow London Legends Cup on Twitter - Legends Cup - https://twitter.com/#!/LegendsCup
Follow on Facebook - London Legends - http://www.facebook.com/home.php#!/londonlegends