The Little Man Fights Back Arsenal Fans Are Revolting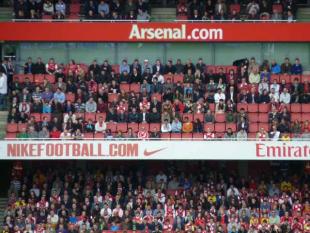 Full house
By Celine Dion
May 16 2011
Two years ago a return bus fare to the next town cost £3.50. But being the only bus company in town, the bus company stuck the fare up 40p. Then less than a year later, it did it again. They are a monopoly you see, they can do they like. The train to London, on the other hand, costs me £15.60 for a travel card. It's just gone up two pounds. Due to the extreme logistical difficulties the people of my town would have in building their own railway line to London, the train company can do what it likes as well.In my local supermarket, a small packet of cashew nuts costs £2. Cashew nuts! A bag of toilet rolls and a Mars bar costs the best part of a fiver. That is just under an hours' pay for a very significant proportion of the British public – if they can find a job.
Growth of the Super Corp
Why is the price of everything going up, except peoples' wages? Well, the country needs economic stability and growth you see. Why is half the country on temporary contracts, why are people working unpaid overtime and working their annual leave? It's to protect our future, you see, and our economic growth. Anyone who can't see that the future of humanity depends on everybody working 6 days a week and paying half their wages in tax so that the CEO of the Royal Bank of Scotland can give himself a 2 million pound bonus is a wrong thinking COMMUNIST as far as I am concerned.

Of course, there is very little about much of this that the little man (or woman. Ed) can do. You have to pay your taxes, or they put you in prison. You have to go on the bus or train, unless you want to stay in the same place all the time.
As corporations merge into super corporations, they become more powerful than government, and trying to boycott one in favour of another becomes meaningless. The Corporation act means that a company has a legal duty to provide MAXIMUM RETURN for its shareholders. As monopoly increases, this becomes easier and easier to do. Make no mistake, we are entering the era of a new feudalism if this carries on.
Sightseeing and Marching
I couldn't go on the march yesterday, because I was meeting some people who support another club, but strangely enough I had to take a (rather expensive) bus through North London to Finsbury Park. The bus route turned out to be a bit of a sightseeing tour of the Arsenal pubs. The Highbury Barn, the Bank of Friendship, the Gunners, the Twelve Pins. Outside each one there were men and women enjoying the ritual of a home game. Even though the game was largely meaningless, there were generations of Arsenal fans enjoying the sunshine, pints of lager, a quick trip to the Arsenal fish bar, standing on street corners, smoking, talking about the (decidedly average) team. This is what Arsenal fans do, they were doing it fifty years ago and I hope they will be doing it fifty years from now. You need it every two weeks, given the general b*llocks we have to put up with in every other walk of life.

Fans are revolting
We all know what happened yesterday. For some reason, a combination of the BSM March, the 6% seat price rise and the disgraceful silver membership increases, beer, and Marcus Bent banging in two quick goals (he's a 25 million pound striker, that's what they do), and the whole house of cards came crashing down. The whole carefully constructed veneer of a happy successful football club following a noble project fully supported by rapturous and adoring fans came peeling off rather quickly. By the end of the game, in front of a live Sky TV audience, the natives were revolting. The '6%' your having a larf song was ringing round the ground.
So immensely cr*p was our performance, that I abandoned my seat for much of the first half and some of the second, and wandered the concourses, talking to several fans who had decided to drown their sorrows. The story was the same from all of them – people who had followed the club for years, had hoped to bring their kids, but who were having to cut down, give up memberships, were thinking about stopping going. There was a feeling of great sadness around the ground. And although some of it was about the team, and their propensity to play so very badly every April and May, it was about far more than that.

Some of it, I think, was sadness for Wenger. There are very few people that don't have some kind of respect or admiration for the man. He's made a few c*ck ups, put too much faith into his project, and I have a suspicion that yesterday may just have broken him.

I am fully aware of the horror with which the AKB's would have viewed yesterday. The sanctimonious patronising stuff you get on the internet. 'Glory hunters', 'If you don't like it don't go'. All staple AKB retorts designed to belittle and embarrass fans, a lot of us from years back, who have, at last, found their voice. There also seem to be another breed of fan, the 'BKBs, or 'Board knows best's. People, no doubt, who bow down to the spectre of 'economic growth' in their everyday lives.
Well, yesterday was a big kick in the nuts for the lot of you. It's not about Wenger anyway, he's just a front man. Nor is it about the players. I make no excuse for the fact that I spent the second half agitating against the board, apologies if I upset anyone near me. The 6% song was sung long and loud, and when the club read out the attendance, everyone just dissolved into laughter.
There's nothing that sums up the banal happy clappy everything's just great plastic corporate world of modern day Arsenal, than pretending that 60,000 people have turned up when they patently haven't. Yes, we are all well aware of the argument that the club are just saying how many tickets were sold. Whatever. Why not just say how many people are in the ground. That's what any normal club would do.

Actually my favourite bit was something that has gone largely unnoticed. Chamakh, in his first meaningful piece of action since Christmas, stuck the ball in the net, and suddenly these bloody great flags sprung up at the front. Then the goal was ruled offside and they had to be put away again. Here's an idea Arsenal, stop spending money on silly gimmicks to boost atmosphere. Stick a better team out, avoid extortionate price rises, and the fans will do that for you.

Anyway, at the end, I came down and clapped the players. I don't have anything against them. Some are too young, some have been overworked due to lack of cover, some shouldn't be at such a big club, and some are very very good. And Squillaci is @#$%&. I'm not going to have a go at them any more than I would get onto a bus and punch the bus driver for putting the seat prices up. I'm not one of those people who purport to be able to do their job better than Arsene Wenger. Money gives you options, and despite all the bluster about this being the best squad ever, this is a squad short of top class options. But I do know this, we're paying more for our cheaper season ticket than Man United's most expensive one. And their lap of honour will include the premier league trophy.

Look, I don't personally care whether the Arsenal find the level of the 1980's. Or 1960's. You still get your day out; you still get to take your kids. You will still have your heroes. You can still go to the Highbury Barn and the Gunners. Lately I've been toying with the idea of not going, or maybe going less, or watching a conference side.
Like many people I have not had a pay rise in 4 years and could be made redundant at any minute. But then I thought, no, why should I pack it in, I was here first, before any of these money skimming liars took over. I know when I am being mugged off, and yesterday was the day that about 40,000 other Gooners woke up to it as well. It was a glorious blow to the super-capitalist elite, live on their own TV channel. And if the club doesn't get more honest about its objectives, its financial capabilities, stop passing failure off as success, moving goalposts, and stop fleecing fans, then I'm going to carry on, just the same, because yesterday was the beginning, not the end.