Most Gutless Performance Since Two Weeks Ago Top of League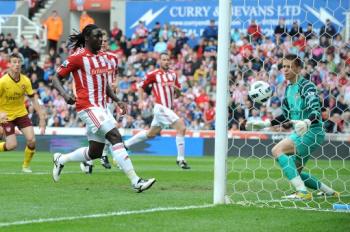 Grand Chest Master
By Boris Mellor
May 8 2011
Only seven days ago Arsenal fans were on cloud nine as their team defeated Man U, but nobody should be surprised by this result, for only 14 days ago Arsenal gave a similar gutless performance away at Bolton. After the Stoke match Arsene Wenger gave a realistic appraisal of his team's performance, at long last, but with only 11 points out of last 27 the question has to be why has it taken him so long to grasp reality?
Stoke deserved their win, but Arsenal are hardly one of the greatest teams in Europe, as Pulis claimed after the game. No Tony they are a shadow of what used to be one of the greatest teams in Europe. Great teams don't give away goals that a striker doesn't even have to jump for, but can chest in. Great teams don't keep on going straight down the middle, again and again, when it has been proved it doesn't work.
Only a few weeks ago this team had a real chance of winning the league, now they will have to fight to hang on to third place. The only thing this team has won is the Conceding Dead Balls Championship, 21 out of 39 goals were conceded at set pieces. Of course you could claim the team is great at defending in open play, a tempting idea, but where do the free kicks and corners come from? That's right they come from poor defending in open play. Sorry Gibb's but you are not it.

Umbrella with holes AKBs
A few weeks ago I got into a discussion with some AKBs who told me our defence had improved, I disagreed, and they quoted some stats back at me. My reply was that Arsenal's defence is like an umbrella with holes in it, very effective when it's not raining. When the pressure isn't on they can defend, attack them and watch them panic like rabbits in headlights. It will get worse as more teams cotton on that they are there to be had.
What is the problem?
I won't claim I fully know the answer, that's Wenger's job, and if he knows he is keeping quiet. I agree this is not the strongest squad we have ever had, surely Wenger won't repeat that conceit anymore, but neither have Man U or Chelsea squads been that strong. This squad might have been able to win the league, but that's not the issue, the question is why not.
Well I asked the question and I will answer it indirectly, the problem is that this team now reminds of the teams that played for Billy Wright, Bertie Mee (in later stages), Don Howe and others. You have a feeling they are not listening to the manager. You never know what's going to turn up, they are unpredictable, one match brilliant, the next stink the place out. They become Big Time Charlies, up for some matches, but not the hard graft of winning the league.
It comes to a stage where the squad is no longer motivated by the manager, I hate to take anyone's dummy away, but I seriously believe that this is the stage Wenger is at. Wenger almost admitted his team had not turned up but then drew back from the logic of that. The overall situation is not calamitous, and maybe it can continue, a sort of "high class mediocrity", but I doubt it will ever lead to anything else than an imagined Wenger trophy for third or fourth place. A sort of Andy Murray of the EPL, which is better than being Tim Henman. However, stagnate may not be the best way forward and there is always the risk of sliding back.
Nonetheless, Wenger's "high class mediocrity", is still better than anything Harry can do. Happy St Totteringham Weekend.