Fans United Say No Further Sale of Shares Conn Concerns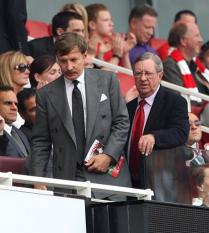 Picking Pockets?
By Boris Mellor
April 12 2011
A standing room only meeting of the Arsenal Supporters Trust was united in calling on all shareholders to hold onto their shares in the best interest of the club. The trigger for Kroenke's sudden, but not unexpected, takeover was the fact that he was able to acquire Danny Fiszman's and Nina Bracewell Smith's shares taken his holdings up to 62%.
According to the Guardian Fiszman is seriously ill, and his sons are not interested in the guardianship of the club. Allegedly, Usamanov (Red and White Holding) offered Lady Nina £13,000 a share but she preferred silent Stan's £11,750. Whether this was out of loyalty or due to a binding agreement is not clear.
It is expected that a whole host of Arsenal names will be selling shares to Stan; Friar, Carr, PHW, Chips Whatshisname, Lord Harris of Carpets. However, AST believe that Red and White Holdings will keep their holdings for the present. The so called Russian has a fortune of $18 billion, and probably has more money down the back of his sofa than the £240 million he would get if he sold up.
AST finds itself in the strange position of hoping that Red and White, and, not so strangely, small share holders will not sell up. Those worried about if this is the last time they could sell their shares shouldn't worry said one member from the floor, the AST will always buy them.
Clarification Kroenke is the owner
There has been a lot of rubbish talked in the media, firstly the shares are not quoted on the LSE, they are on PLUS. Secondly yes Stan has to make an offer to all shareholders to buy their shares, but if no one sells it doesn't change the fact that he will be the majority holder and will appoint the board and run the club from top to bottom. Even if his holding stays at 62% he will be the new majority owner, albeit with minority shareholders who he can involve or ignore at will.
All Change and No Change
Kroenke has stated he will keep the present board and manager, and that he has no intention of changing them. That may be the case in the short term the long term could prove very different. He has also expressed his confidence in Arsene Wenger. Unlike the member who compared the great man to Hosni Mubarak, saying he was out of touch with ordinary fans. This was greeted with giggling, but fans wanted to discuss ownership not the manager. It is also likely that Gazides and Tom Fox are really Kroenke's men, so he has a good deal of commercial control already.
Contrary to press reports Kroenke has, according to the AST, signed an agreement that he will not pay for the shares by taking out loans against the club. Apparently this promise is in a 90 page document outlining the offer. Gazides has intimated that he still wants to work with AST and still supports shared ownership.
The AST welcomed the opportunity to continue working with the club, but the key value of the AST remains, shared ownership, and that is why the vote to call on shareholders not to sell was passed unanimously.
Kroenke cannot buy out everyone unless he has 90% of all shares, it is unlikely that he wants to, or can achieve, that figure. Ironically we could all be dependent on Red and White Holdings to keep their shares or we could end up with a middle eastern mixed grill. One chicken and one camel, I am told it's hard to taste the chicken.
David Conn The Guardian Disagrees on Funding Guarantee and Custodianship
David Conn disagrees that Kroenke's promises are a real guarantee, he doesn't believe there are any guarantees that debt finance could not happen.
"Kroenke stated that the £239m he is paying Fiszman, Bracewell-Smith, Hill-Wood and the other Arsenal directors will not be funded "by way of any debt finance … which will depend on the business of Arsenal". Tom Hicks and George Gillett made a very similar claim in their 2007 offer to buy Liverpool but then, in Gillett's words, "circumstances changed". The pair took millions out of the club in order to pay the interest on their own borrowings.
There are no guarantees. Nor does it appear Kroenke intends to put money into Arsenal itself, only to pay his millions to the outgoing shareholders. That is what all yesterday's talk of the "self-sustaining business model" means – that Arsenal will run on what the fans pay over, for the £100 seats and other pricy tickets. Kroenke himself will not be contributing."
Conn is a highly respected Football and Financial Journalist, his view on this needs consideration. He concludes "The American may indeed turn out to be a long-term, competent owner of this club of grand tradition. He may not turn a quick fortune for his Delaware holding company. But the word "custodian" is being debased and its principles need to be reclaimed." The full article is here .
It's ironic that Hill Wood will pick up £4.7 million for his family shareholding, which is almost the same amount a 6% season ticket price hike will raise. should we pass a vote of thanks to the board for selling out to Kroenke? Perhaps the money they have made is thanks enough?