Can Kroenke Stop Civil War or is it More Complex? Part 1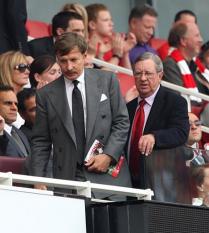 Tweedle Dum and Tweedle
By Celine Dion
April 10 2011
This article goes to press at a time when the implications of Stan Kroenke's possible buyout of Arsenal raises the issue can he stop the current civil war between Gooners over the clubs present board, management and policies. Celine Dion believes that the causes of the civil war are far deeper than some fans realise.Even if Kroenke takes over it is possible he will continue the present policy. After all Gazides seems to be his man, and he has made very friendly noises about Wenger. Whatever happens it is important to have a longer term view on what the issues are. Celine provides his view of what matters in his two part article that follows.
If you don't know what I'm talking about then you haven't been paying attention. You may or may not have been at the Blackburn game, where there were reported scuffles between home fans. But if you want to know whether there's 'civil war' between Arsenal fans, then go on twitter and the various larger forums. Its war alright, and it isn't even that civil.

On the one side, we have the pro-Wenger and the pro-board fans (and, interestingly, one tends to go with the other). Their outlook is pretty simple – Wenger and Arsenal pursue a noble cause by refusing to spend the big bucks of Liverpool, City, and Chelsea.
We play decent, indeed at times excellent football, and punch above our weight by achieving Champions League qualification every year. If Wenger left, for whatever reason, we would in all probability find ourselves in a worse situation, some of the better players would leave, our football would suffer, and if we missed qualification for the CL, then the club would very likely find itself in an economic tailspin. It's an attractive standpoint actually, given the dirty capitalist world we all live in. In many ways, I would like to fall into it.

The other side has a greater variety of positions. The most extreme, are the ones that say 'Wenger needs to go, he's lost it'. The background to this seems to be a dissatisfaction with his overall stubbornness, a football blueprint which appears to be flawed, the same apparent mistakes repeated year after year, and an overreliance on injury prone players.
Perhaps this over-reliance is at the root of a lot of overall issues, because minor squad players that in any other situation would look extremely decent, are having to play a lot of crucial games. Eboue, Squillaci, Almunia, Denilson etc. One way or another, they have shown that they are not up to it.
There are another set of fans, ones that say 'Wenger is a good manager, even a GREAT manager, but he needs to change his ways, because for whatever reason he has forgotten how to mount a proper, end of season run of wins, that will lead to a trophy.' Changing his ways, would, I assume, involve spending more money that he does now. Both these sets of people could actually look ridiculous, given that we are possibly only four points off the top of the league and in no other competitions.
The title could still feasibly be won. We have had some excellent away victories this season at grounds where we have previously had trouble. Villa, Everton, West Ham all come to mind. This indeed is something that the pro-lobby take great delight in pointing out.
But the anti lobby have seen the end of season collapse happen so many times before, that after our run of three consecutive draws v Sunderland WBA and Blackburn, they are taking it for granted that the same collapse will happen again. And it might take guts to say it, but if we did win the league, we will have been lucky.
Because some or indeed many of our performances this season have not been title winning, and five defeats would be the highest number of defeats posted by a title winning team in many years.

To spice things up, there have been two landmark events this last week, firstly Wengers' press conference as reported in the Daily Mirror, a rearguard action where the great man forced home some unpalatable truths for the anti-Wenger mob. Concentrating purely on the positive, taking a curiously anti-capitalist stance, and basically telling the fans that if they didn't like it they could p*s$ off.
Then Hill Wood went the same way, saying that supporters were 'silly' for criticising the current state of the club. Again, much emphasis was placed in the current position in the league, 2nd, in other words ahead of all the other big spending clubs. There was a strong element of corporate spin about it all, with both parties playing dumb to the fact that we have just dropped a substantial amount of points in the late stages of a season for about the fifth year in a row (And not to mention three cups. Ed).
Its not that simple
As with all civil wars, things are massively complex in fact. Far, far, more complex than either of the two camps seem to allow. To get to the root of the overall reason for this disparity, I think you need to look into the 20 year history of the club, and the commercial principles of a PLC (any PLC) as a whole.
I'm sure I don't need to paint the picture of many, many other football clubs that over the years have fallen under the influence of unscrupulous or incompetent financial ownership, that has seen the clubs relegated, or worse bankrupt.
Arsenal are not actually one of the worlds' biggest clubs. Or they weren't in the 1980s. No bigger than Aston Villa, Sheffield Wednesday, or Everton were at the time. The entire situation we find ourselves in, with this enormous ground and world class players, I think can be traced back to George Graham, not Wenger.
It was in the Graham era that we started to win trophies every other season, including a European one. And Highbury, under Dein, started to take on a different appearance. When I started to go to games in 1986, the ground was ramshackle, a shed at one end and an open terrace at the other with a corrugated iron wall behind it.
Graham the turning point?
By the time Graham left we had the Clock End executive boxes, and the gleaming new north bank. The East and West stands had had new seats and an overall corporate makeover as well. We had the ticket registration scheme and the bond. To me, this is the pioneering era of Arsenal, not the later one. Then, after a mid 1990s lull, that was pretty brief, the club struck gold, and Wenger breezed into the marble halls and won the league without breaking a sweat, then did it again.
Then it was done a third time, for good measure. With a couple of FA cups. The board, glimpsing the footballing equivalent of a fruit machine with all the money pouring out of it, took the plunge and built the Emirates. Or rather took out a 400 million pound loan with a series of complex property deals and built the Emirates.
Wenger surfer not builder
Although there are fair few people that seem to think Wenger built Ashburton grove with his bare hands, when in fact Alfred MacAlpine did. But the ascent of Arsenal to the size they are now, has been so startling, that Wenger cannot help but be identified, subconsciously by most people, as responsible for it, even if he was simply caught up in it. This has given him a God-like, unquestionable status to many fans, especially newer ones. I think there is a strong argument that in the post Emirates era Wenger became a passenger, or even a pawn in the story of Arsenal, rather than a protagonist, but most people do not see it that way, even on the anti-side. I cannot think of any similar situation in football, and it is not necessarily a healthy one.

The purpose of a PLC, especially one in debt, is to make and recoup money. Companies are not stupid, every possible permutation of every possible financial occurrence are calculated and re-calculated to the n'th degree of detail. My overall impression of the last 10 years of Arsenal, and I have yet to meet anyone who can argue the other way, is that EVERYTHING, EVERYTHING is calculated to bring the most amount of money into the club. There is nothing else to it.
Even the way the ground is built, with enormous upper tiers where the club can justifiably charge £60 a seat to the majority of their customers. The fact that the ONLY times we have seen anything like a substantial outlay from the club, have been in the winter transfer windows of 2006 (Walcott, Adebayor, and Diaby in the space of two days) and 2009 (Arshavin). Both times, we were 5th in the league and possibly not going to hit the pay dirt of Champions League qualification.
The rest of the time, we know how it goes, if a player leaves, he is replaced by a lesser name from the youth or reserves. And a lot of the time, Wenger has been proven right in this, with Fabianski and Chesney this season, for example, together with the emergence of Djourou. Other times he has been proven wrong. Denilson for Flamini, Eduardo for Henry.
However, to the PLC, in my book, all these observations, I suspect, would be irrelevant. The same amount of people have carried on turning up, the CL money has continued to roll in. The club still has an enormous amount of overseas fans willing to buy merchandise. As with all corporate entities, what the employee thinks, what the outside observers think, is completely irrelevant. It is what the shareholder and the bank thinks.
Increasingly, Arsenal communicate in the inane, happy clappy fashion of a major company, where every disaster is given a veneer of absurdly positive spin, and there is no such thing as bad news. If you can get yourself a principled front man, like Wenger, whose clear distaste for the obscene spending of the Chelseas and Manchester Cities is evident, then so much the better. In the same way that British Gas, one of the most unprincipled and shambolic of the modern utility giants, employs that comedian with the loveable voice to do all its adverts, and manages, to many people, to pass itself off as some kind of left wing energy conscious peoples' co-operative.

As a regular home fan, frankly I find some of the clubs commercial behaviour reprehensible. Small details, but telling all the same. The red membership, in the first year of the Emirates, was a sham, much like the ticket registration scheme was. People paying £30 for a box of nonsense, plus the god-given right to buy a seat to a game. Except, for the first season, there weren't actually any seats, they kept selling out at the silver stage.
The club had to hastily rearrange the allocation for the second season, but the fact remains, in 2006, 60,000 people (I've checked it) paid £30 for the right to buy a seat to a game that largely didn't exist. That's a lot of money coming into the club for very little effort. Similarly, I remember an episode where you were encouraged to buy a home shirt via the website in 2008, for various money back vouchers to be spent in the Armoury.
Likewise, you could get the same type of voucher if you set up a red renewal each year by direct debit. Except, when you got the vouchers, they couldn't be used together, couldn't be redeemed for this or that, one was only valid for about 2 days, and so on. If you rang the club to talk about it, you got passed around the houses, or got cut off. I have spent literally thousands following the club in my time, these things are not the behaviour of a friendly local football team that values my support, this is more the practice of a modern money-hungry corporate behemoth.
Similarly, the pushy sales approach of the club badgering supporters with club level renewal forms last week. I am sure if someone is thinking of spending several thousand pounds on a four year season ticket renewal they aren't going to be swayed one way or the other by someone thrusting a piece of paper under their nose in the queue for the gents. But that's not how a PLC thinks, the PLC is a machine that passes up no opportunity for self promotion and future sales.