Worse since 2004 Blown title race Day Trips Better to walk?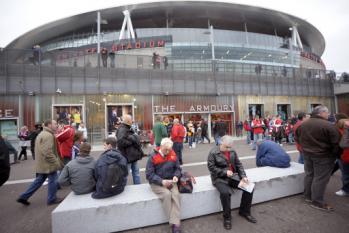 Day Trippers
By Celine Dion
April 3 2011
I am 36 years old, I have been married for 8 years and I am the father of two young children aged three and five. I started going to the Arsenal in 1986 when I was about 12 and it became part of my life from there. When I was younger football was something I took for granted. I used to say that if I had only 20 pounds to my name, I would spend it following the Arsenal.
Because that was all it cost, 20 pounds, to travel by train from my home in Kent to Highbury and stand in the north bank with money for beer and food on the way home, or to take the tube to Watford and do the same, or even travel to Norwich, give or take 10 pound more.
So it was easy to become part of the family of Arsenal, you soon got to recognise the faces that went to the away games, or formed the hard core support in the back of the North Bank or Clock end, you got to know the songs and the camaraderie, the people and the names. It was like opening the door to a wonderful new world. Players like Merson and Wright were like fans on the pitch, and the team had grit and heroes like Tony Adams.

Life changed for me after that. I went to University in Liverpool. I did the odd away game in the North, but in the main and for many years I was only interested in nightclubs. I met Mrs Celine Dion, and lived with her in Camden. During the wonder years of 1998-2005 I was rarely at the ground, and if it was, I was paying over the odds for a seat.

When the Emirates was built, I saw this as an opportunity to get back to how things were, and get regular football back into my life. The bug took hold again very quickly - moving to the present day, I HAVE to go to every home league game, other match going fans will understand this, something would be wrong if I sat at home when I could actually go to the game.
Opium of the masses the heart of a heartless world
Life can be pretty crap, outside football; big business has taken a grip of our country and our lives. Saturday is something I look forward to, too much so, in fact, as the antidote to the rubbish dysfunctional life I lead. It's not just the game itself, it the ritual, it's the beers before the game, it's going to the Gunners, it's talking to the away fans on the way back to the station.
But there's a distinct difference to it all nowadays. The Emirates has a lower tier of cheap seats, or so-called cheap seats, £35 a throw when Wigan or Wolves are in town. But these sell out quickly; most Arsenal fans need to pay £50-60 to watch the team. Plus travel. Plus £3.70 a pint and £5 for a small cardboard box full of chicken strips. With train fares, programmes, and all the rest of it, a day at the football doesn't cost £20 anymore, it costs £100 at least. And that's just for me. Heaven forbid if I wanted to take one of my kids.

But what about the team nowadays - well, the Arsenal team has got progressively worse since 2004 and there's no way anyone at this point in time can disagree with me. There's no two ways about it, each time a top quality player leaves, for whatever reason, they are replaced with a cost-cutting alternative. Eduardo for Henry, Almunia for Lehmann, Denilson for Flamini and Flamini for Gilberto, Squillaci for Gallas.
The spreadsheet-shuffling marketers at the top of the club know exactly what they are doing, they have been peddling the brand of Arsene Wenger and his cut-price youth driven title winning potential for years and years now. They have successfully drawn Arsenal fans into the economic argument, you hear people saying 'We don't want to run the risk of going BANKRUPT like United or Chelsea COULD.'
Like there's something terribly WICKED about spending 15 million on a player, even though everybody else does it and we used to as well. As if Arsenal are some kind of hippy co-operative movement that charges everyone £2 a seat to watch their team of plucky underdogs ply their trade against the unseemly monoliths of Chelsea and United. It's all bollocks, frankly. Twenty five million pound a couple of times a year isn't going to send a club our size bankrupt, loan or no loan. And even if it was, sell some of the underachieving injury prone sh*te that's in the squad already.
Take a walk around the middle tier of Arsenal as I have done. Half the investment bankers in Europe can be found there, drinking Chateau-Lafitte and eating big fe*king cream cakes. The whole place STINKS of money. Increasingly, I find that the people who are most protective (and they are, condescendingly and vehemently so) of Arsenals' magical team of accountants and their representative on the pitch Mr Arsene Wenger, are people who don't actually go.


Throwing it away
As for the people who do go to the Arsenal. Well, there's something wrong frankly. Yesterday we played Blackburn Rovers. This is our best opportunity in the last five years to win the league. A bit injury hit - but not half as injury hit as usual. Out of the Champions League nice and early. The league has become a bit of a holy grail for me personally. It hurt me when we got so close with the Hleb/Flamini/Adebayor team, then just broke it up and started again. It hurt me last year when we threw a great position away last year when we failed to predict our yearly injury crisis in the second half of the season and ended up getting twatted by the likes of Wigan.
This year was our window of opportunity, Chelsea got caught short with an aging team and a run of poor form in a way that is unlikely to happen again for a long time, Man City are a year or two off total dominance, and United whilst a better team than us, are catchable. Our first team is ridiculously dependent on Fabregas, and I would suggest that this season was rather an important one to nail down a trophy to show him it might be worth staying.

So I turn up to the Blackburn game, after the disappointment of the lunchtime United comeback, and I'm pretty psyched up for a victory that will at least keep us on their tails until the big Liverpool Spurs and United games. But the whole place stank. You would think that with a couple of hours extra drinking time people might be in a singing mood, but apparently not.
The team were prancing round in their usual directionless fashion of late, for their third draw against much less powerful opposition. The great failing of Arsene Wenger is that if at first he doesn't succeed, he just tries the same f*ck*ng thing again and again. Doesn't vary his tactics, still hasn't sharpened up the physical side. Why change when you're already a genius?
The crowd is busy eating their little tubes of Pringles with their bulging bag of Arsenal Merchandise tucked neatly under their seat. Fabregas is on the bench, having a little rest. Shows you how much Wenger wants the league doesn't it. He plays the bloke with an injury in Barcelona, when the Cup with Big Ears is flashing her knickers at him. But not against Blackburn in the title race with eight games to go.
Blown Title Race
So that's it really, we blow the title race, and everybody goes home again. Chattering happily. Off for a drink, or perhaps a nice meal. The man on the tube next to me was having a read of 'The Spectator'. I've done about a grand and a half on football this season, the wife's not talking to me, but the club doesn't give a f8ck about that, it's got three more just like me, even if they're from Stockholm and wouldn't know the words to any Arsenal songs even if I gave them a little card with them all written down.
Day Trippers
It might be a small detail, but take a look at the toilet queue outside the gents by block 22. Stretches back to the turnstiles with people patiently waiting ten minutes for a p*ss. Oblivious to the other toilet two blocks down five times the size with no queue. The people who were at the last game will not be at the next game. And the people at the next game will not be at the game after that. And that's just what the club wants. Just a big revolving door of tourists sampling the Arsene Wenger experience once or twice a year and taking home a big shopping bag of Arsenal tracksuits.
Its money not trophies
They don't care if there isn't a big party in May in The Gunners because they'll be back in Kuala Lumpar. It's dawned on me. I'm just watching a big spreadsheet, that doesn't give a toss whether it wins anything or not. How much more money do you get for winning the league than coming second? About a million pounds. So what's the point of spending the twenty million on cover for Song or a striker better than Bendtner or the invisible man?
That's right, there isn't one. Just make sure you don't drop out of the top four. Do you think Tesco's' main objective is to win Supermarket of the year? Nope, it's the bottom line mate. We are all having the urine taken out of us by a load of accountants and a load of mercenary players who think they are better than they are. Why do you think they don't come and clap the away fans? Because they couldn't give a f*ck, half of them, that's why. They just play their athletic ballet dancing routine football and if it doesn't win back they get into their big jeep and go home again. Same again next week, and next year. The money comes rolling in, lovely.

Better to walk?
Well it's all bollocks and I've had enough of it. But if there's one thing I've learnt in life, you won't beat corporate power, especially when most people can't see what's happening. It's better to walk away.