Was Graham really better at defence than Wenger?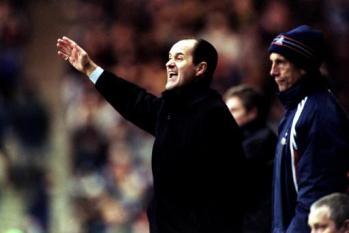 Director of the Defence
By Eduardo
January 6 2011
Was the George Graham teams' defense really that much better than the Wenger teams' defense of the last five seasons. We all remember the GG well drilled defense, the Famous Back Five as so many call them, the bedrock of the team.
How we wish we had them for the last few years, then surely we would have won everything going, but are we correct in this view, or is our memories playing tricks on us?
Is it all down to one or two outstanding league season from them - 1990/91 when they let in only 18 goals in 38 games and 1993/94 when they let in 28, or was that just an exception? Really if you take those two seasons out of it, then their record is not any better than Wenger's awful defensive record of the last five seasons.
Yes I can hear the cries now, but you can't take out those two seasons, but the point I'm making is that in the 9 seasons under GG the much vaunted defense we all (myself included) claim to be our best ever, probably best ever in England, had seven out of the 9 seasons when they were not that special at all, and in fact in only three out of those seven seasons did they let in less than a goal a game.
The Wenger defense of the last six seasons has had five seasons where they let in less than a goal a game. So in fact in the last six seasons when we are said to have a woeful defense the team has matched the GG record out of his 9 seasons, 5 seasons of less than a goal a game let in.
Graham's Record
I will say it again, apart from 91(18) and 94(28) Graham's defense let in lots of goals, 87(35), 88(39), 89(36), 90(38), 92(47), 93(38), 95(49)
Wenger's Record
Meanwhile Wenger's defense for the last six seasons since the invincibles, 05(36), 06(31), 07(35), 08(31), 09(37), 10(41)
Couple of things too that should be taken into consideration when judging the team's defense of the two periods, back in the Graham era the tackle from behind was allowed and the offside rule bore little resemblance to what it is now, no second phase for them to deal with, either you were offside or you were not.
Goal Scoring Records
Also we must take into consideration that we did not score as near as many goals in the Graham era as we do now, Graham teams' scoring record was 87(58), 88(58), 89(73), 90(54), 91(74), 92(81), 93(40), 94(53), 95(52), the team was usually built around not conceding.
However, Wenger's teams of latter years is built around attacking at every opportunity and his teams' record is 05(87), 06(68), 07(63), 08(74), 09(68) and 10(83). Graham's team in his 9 seasons scored over 60 goals in only 3 seasons while in the last 6 seasons Wenger's team has scored over 60 in all of them, actually only one is the low 60's.
Pre 2004
By the way Wenger's record from 97 to 2004 is as follows, goals conceded 32, 33, 17, 43, 38, 36, 42 and 26. Goals scored 62, 68, 59, 73, 63, 79, 85 and 73. You will note that the 17 conceded in 98/99 is better than any GG team, and overall in all seasons here(14) Wenger's teams have only on three occasions let in more than a goal a game in a season.
His goal scored record overall in the 14 seasons is that the team has never scored less than 60 a season, in fact only 3 times has it been in the low 60's. I think people should stop the bull that Wenger knows nothing about defense as the stats say otherwise.
So has that made you look at our defense since the Invincibles a little differently, or the GG defense differently, I'm sure someone out there will say the old refrain, "There are lies, damn lies, and statistics".