Has Wenger enough in reserve or will he chuck it for CL?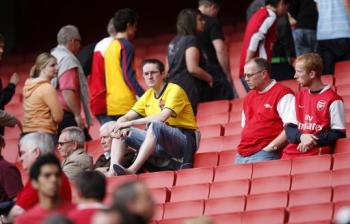 Happy Ending?
By AJ The Gunner
August 13 2010
After the world cup with its deafening noise from Vuvuzelas to the Jabulani ball, and all the other controversies, I'm ready for what this season has in store for us. It could either be the toughest like Wenger has predicted, or it may turn out to be like last season which saw only Fulham give the EPL something to cheer about in Europe.
Can the Arab rich Citeh do a Chelsea? Can Spurs achieve their long obsession to be greater than Arsenal; or can Hodgson inspire Liverpool like he did with Fulham? But more importantly what are the prospects for Arsenal?

I am bracing myself for the worst this season as regards Arsenal because I really do not share Wenger's confidence that we can clinch our first title after 5 long seasons of waiting. I desperately want to believe that we can but I prefer to spare myself the heart ache of hoping. Somehow I feel that I will rant and rave this season as always, but eventually watching Arsenal fade away come May. For one we have a captain who Xavi seems rather obsessed with, will he be 100% committed? Who knows, all I know is that it will be a mistake to expect a want away Cesc to carry this team.

In spite of my doubts this season, I am seriously hoping that Wenger has sorted out our defence which has leaked too many goals for the past 5 seasons. We are always caught too far up the field, with teams punishing us with counter-attacks. But then again, the pre-season games left me with nothing to feel confident about. We are still hopeless at set pieces and I wonder if Wenger has any idea how to sort our defensive frailties. GET KEOWN FAST!!!

Getting another central defender as a cover will help us mount a serious challenge this season because as I write, we are still short of a defender unless as usual, the typical Wenger's gamble will be to wait on Djourou to return from injury and hit form (could be a long wait. Editor).

As for our goal keeping problems, what can I really say about the two error-prone clowns Arsenal are parading as top class? To put it mildly, they are accidents waiting to happen. Where is the top-class goalie that will definitely make a massive difference for us this season?

Anyway who knows, we can wake up tomorrow and Arsenal will be unveiling a new keeper. We still don't have enough strength in depth to carry us through our injury woes which has already begun? Where are the quality players who will challenge for the CL, EPL Title, FA cup and the carling Cup?

Then again, Wenger has just promoted five reserve team players to the first-team squad for the season; and most probably, returnee injured players will once again be Wenger's new signings. Anyway Wenger picks what competitions are most important to him and we know he is obsessed with the CL.

Everything he will do this season will once again be dependent on every CL game. He will obviously chuck the Carling Cup, the FA Cup; and if we have a crucial league game before a CL game he will most likely field a weakened team and in effect throw away that game too.

I am not really concerned with the Liverpool game as the first 10 games will determine for me if this is another poor season where we hope for so much, expect so much, but will be left in the dust of disappointment.

Serious glaring issues should have been sorted out or else, where is the ambition? Where is the desire to finally end our trophy drought? There can be no excuses for Wenger this season. If he fails, he will become one big disappointment as far as present day football is concerned.

Nevertheless, it's not all doom and gloom as we have new players to watch out for. We just have to fasten our seat belts and enjoy what may become another bumpy ride. After all, it's Arsenal or nothing so BRING ON THE GAMES!!