Queen Mum, Kray Twins, Karen Brady, Porn Kings, your boys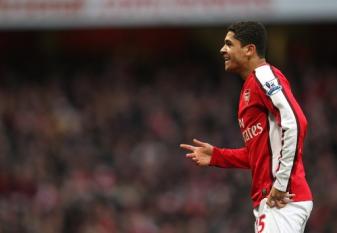 He feels like dancing
By Boris Mellor
March 21 2010
Queen Mum, Kray Twins, Karen Brady, Alf Garnett, Porn Kings, your boys took hell of a beating: How many fans get to ole' their team when they are down to ten men and there are still 10 minutes to go? Football is soap opera and its twists in the plot that make it such a spectacle. It is more than the sum total of passes and good shots, memorable games are about heroics and unexpected results.
Of course everyone, everyone who is sane that is, expected Arsenal to cruise this one. I predicted 4-0; I wasn't expecting much opposition at all. With a very early goal by Denilson we all settled down for a quite snooze. Apparently he puts a bit of spin on the ball, but this was a daisy cutter, and perhaps it was bobble more than spin that beat Green. Having scored the urgency went out of the team and the crowd, surely it would just be a stately procession of goals to full time.

However a minute before half time Arsenal's world was turned upside down. The ref not only awarded West Ham a soft penalty but also sent off Vermaelen. My immediate reaction was that if the Hammers scored it would be the end of three points and going top of the league. The expected result, for a moment, did not look so certain as it had only a minute before.

I could barely look as Alessandro Diamanti stepped up for the penalty, but the roar of the crowd prompted me to look up just in time to see Almunia push the ball wide. He still had something left to do as West Ham pressed forward, and he finally gathered the ball to safety. If ever a save won a match it was this one.

My worst fears were unfounded, but the Gunners still had to play on with only ten men. Song dropped into the back four, and the first fifteen minutes of the second half were quite hairy. The defence managed to reorganise themselves. Now the crowd woke up and really urged the team on. Now it was Arsenal that looked like the team with 11 men.

Zola's original line up had been conservative, but now he brought on Cole and McCarthy in a three up formation. The only shot of note by Carlton Cole beat Almunia but hit the bottom of the far post. A light bulb burns brightest just before it goes out and that was more or less the end of West Ham as a competitive force. Now it was Arsenal putting on the pressure. Upson handled Fabregas's pass to Eboue, and Cesc coolly netted the resulting penalty. Arsenal were home and dry, how the crowd celebrated, with ten minutes to go the fat lady had sang and the Arsenal faithful were the chorus. The Gunners were in full control and the crowd loved it.

They Ole'd the team, they sang we are top of the league; they jumped up and down twirling scarves. I believe the West Ham fans had now withdrawn their offer to sing a song for us, but I couldn't be certain as I could not hear them over the din. He, who sings last, sings longest.

The replays show that it was almost certainly not a penalty, and even if it was it was not a red; it was clearly not a goal scoring opportunity. There were some great performances, in particular Song who adapted majestically to being a centre back. Eboue and Clichy were excellent, and Diaby would make a great centre forward. Sol Campbell was indomitable in defence and was serenaded by the crowd. Cesc was a little rusty, but he had a good calming influence on the team, and was ice cold for the penalty.

It was a good team effort, no one had a bad game, but some stars were brighter in the firmament.

Things you no longer hear at the ground no 43: Almunia isn't a match winner.

Cult Zero Competition Winner

One or two of you gave the wrong answer the question was the score at the Camp Nou, not the final. So the correct answer was 1-1 and the scorer Kanoooo.

This week's winner is Aly J.

If you didn't win you can still buy a CZ T for only £13.99 so click on the banner below. If you buy a Rocky or Hartson shirt £5 goes to Cancer Research.