Celine Dion Believes Arsenal Have a Chance Season Preview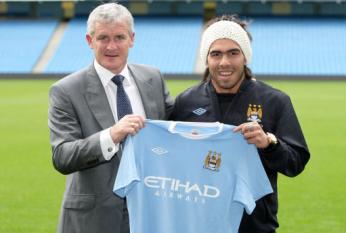 The Future?
By Celine Dion
July 18 2009
I am beginning to think that Arsenal Times is beginning to produce some of the most thoughtful posts in the Arsenal speaking world. It's not a matter of agreeing or not, its a matter of ideas backed up by logical argument. Regular poster Celine Dion has provided a most interesting spin on how recent events in the Premiership might impact on Arsenal's coming season.
Celine Dion's friday night drunk post - shifting landscape of the EPL... new

Posted by: celine dion

Date: 18 July, 2009 00:12

Friday night as some of you know is my main night for posting s%*t on this old website, tonight I have had a lot of time to think because the wife has gone to some theatre trip in London and I have spent the evening trying to get AS ROMA to the champions league final in EA Sports Football Manager 2008. I have succeeded, by the way.

Anyway, this is important, I reckon there are some pretty interesting things going on in English football, interesting enough in fact to render irrelevant all our worries about Arsenal, and my (very relevant) concerns about Adebayor.

The European market is made all the more interesting because of tonight's transfers of Et'oo to Milan and Ibrahimovic to Barca. Two more marquee players who dont want to pay 50% of their wages to Gordon Brown.

As I have said already, I reckon next seasons prospects for Arsenal are fairly bleak. We have an untried, young, ungelled, and meddled-with team that for long parts of last season didn't look like qualifying for the CL. And for whatever reason, there's no guaranteed goals corer in our team for next season. Adebayor will be gone, and although I am an admirer of his basic footballing skills, I realise that he has to go, by hook or by crook, especially after today's nonsense.

But although me and mainly Billy the Kid (Arsenal Times Regular Poster) complain about our teams lack of spending power against the superior power of our rivals, for some reason, this summer, that superior spending power just isn't happening.

So, just for a minute, I am thinking, that Wenger's way could end up looking a whole lot more progressive by the end of next season than it does at the moment.

First of all United. People can try and tell me that whatever Ferguson does, his team will always be in pole position. But they have just lost a player that scores 40 goals from midfield, plus a 20 goal a season world class multi positional striker. I don't care how good Owen, Tosic or Valencia COULD be, Ronaldo and Tevez were the real deal. Witness effortless moments like Ronaldo's 20 yard equaliser against Villa last season or Tevez' crucial backheel at Wigan. They aren't there now. For the first time since I was about 15, United aren't having everything on their terms. And most importantly, Berbatov could have been the player to carry them through this, their last 30 mil purchase, but do you think Fergie rates Berbatov, given the amount of times he gave him a starting place last season? I don't. You can argue the toss, but at the very least, next season will be one of United's 'transitional seasons' ala 2002. And at most, it is the start of their economic chickens coming home to roost.

Chelsea. I ask you one question. What is the point of having the biggest yacht in the marina, if some Arab boy turns up in a f*%king battleship. I personally see City's situation as the death knell for Abramovic. Can he compete? of course not. Is his heart in it? Well, who have they actually been after this summer, to bolster a squad of 30-somethings. Is their new manager an accomplished proven Champions League threat? What's John Terry going to do? What is the average age of their squad? what are their youth players actually like? (well we all saw Stoch come on against us at the bridge and he was s%*t). Have they spent their succesful years building a new ground to capitalise on all the 5 year old little scrotes round my way in Frank Lampard shirts? er, no they havent. Why not Roman? What's your long term plan Roman? Roman? Peter? Roman???

Liverpool. Now that's different. There was something I liked about them last year. 4-1 at Old Trafford is not something to be sniffed at. They did the double over United, the double over Chelsea. There's something about Liverpool even though they only have 4 or 5 world class players and their mangers a world class fruit loop. If I was a betting man, which I am, my money would be on the dirty scouse. But can they rebuild their squad after next year, when it patently relies on major 20 mil signings like Kuyt Torres Mascherano and Babel? Rafa doesn't do stuff on the cheap. Although to be fair, when he buys someone, they stay bought.

Man City. They will do it, mark my words. You can criticise their penchant for buying forwards as opposed to defenders, and the fact that their manager is a brutal old Welsh battle axe who used to like standing on people's faces, but the fact is that once you've got enough money, you can chop change and chop again. The best you can hope for is that they will need a couple of years mixing and matching ala Ranieri in 2004.

Aston Villa. Ha ha har de ha ha. Gareth Barry-less, and strangely quiet in the transfer market, I tend to think that their whiny grandma of a football manager is suddenly realising his limitations. Teach you to reckon yourself against the mighty Arsenal you nasty little tow rag.

Anyway. Although I don't hold Arsene's recent teambuilding achievements in high esteem, the point of this very long post, is to say that some pretty strange things are going on in European and English football. Why hasnt Frank Ribery, or Benzema gone to United like we all thought they would? Whats the point of Liverpool refinancing themselves if they are only going to buy Glenn Johnson of all people. And are we looking at the return of Chelsea to a crappy outfit of national front and rich boys rattling round in a dilapidated car park in West London. We can only hope.

I have been highly critical of the Arsenal lately. Their absurd ticket pricing schemes, and Arsene's haphazard teambuilding. But something, just something, tells me that Arsene's 3 year plan could come good, even if its completely by accident. I for one want to be there just in case....