Another Prick in the Wall- Arsenal Concede at Last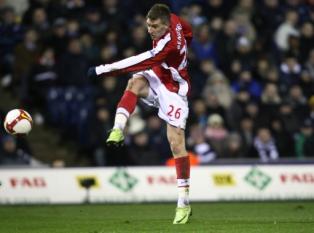 Super Nick
By Boris Mellor
March 4 2009
Arsenal fans at West Brom were distraught as their team lost a chance to extend its record of clean sheets. Instead of claiming the 8th clean sheet in a row the team gave away a sloppy goal by setting up a poor defensive wall. The wall split and Eboue blocked Almunia's view of the ball.
Wenger had yelled put a brick in the wall, Toure misheard him, thinking he had shouted put a prick in the wall. Oh come on, only joking, I think Eboue has great potential.

Apparently it was the shock of losing the clean sheet up front (i.e. scoring a goal), that saw them forget to organise the defensive wall effectively. However Arsenal fans needn't have worried about the Albion equaliser as Wenger's master plan of resting the only player who has scored in the previous five league games; what's that how many? Well that's ... ermm let me see - ah yes that's one in total. Robin van Persie, Robin van Persie............... How could Wenger rest him I messaged a mate.

I must admit I was very worried, I know it was only West Brom, but they are quite strong - after all they are propping up the Premiership. However, Nik doesn't always score against Championship teams, ask Burnley; but all credit to Wenger putting Nik up-front on his own, it meant that Nik had the perfect partner - himself.

Nik did have a chance to score a hat trick, but he is modest chap and he didn't want to embarrass Adebayor and RvP. Nonetheless Nik's two goals, and Arshavin's great free kick, that saw Kolo score his first goal of the season, ended the only chance that Arsenal will have of entering the record books this season. Yes Arsenal have failed to be the first team to ever complete five no score draws in a row in the Premiership.

Never mind there is always next year. Having surprised themselves by scoring three goals, and conceding one in only 45 minutes, then normal service was restored for the second half as clean sheets were maintained in both halves of the pitch. Unfortunately lads, a 0-0 half doesn't count.

On a more serious note, Arshavin did some great stuff in the second half and was very unlucky to score. He doesn't look like the type of player who will be dragged down by incompetents. We are going to see some great stuff from him pretty soon. Actually he wasn't half bad against WBA.